What is the Seed Library?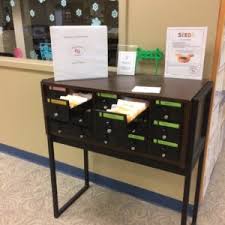 It's a collection of seeds donated by seed companies and gardeners that you can borrow and plant at home. As more seeds are donated our collection will continue to grow, so check back often to see what's new.
There are many varieties of flower, herb and vegetable seeds. There are enough seeds for 4-5 plants in each packet, and if the seeds are small there may be many more.
How does it work?
Select seed packets from our collection.
"Check out" the seeds with your Library card.
Plant your seeds and watch them grow.
Once grown, harvest the seeds from your garden and return them to the Library to share with others.
All seeds are donated, so quantities are limited. Please take only what you will use.
While not required, please keep the Library in mind and donate seeds back so that we may continue to offer seeds to anyone who wants them.
The Seed Library is made possible by the generous donations of the following companies:
Sow True Seeds – NC
W. Atlee Burpee & Co. – PA
John Scheepers Kitchen Garden Seeds – CT
Annie's Heirloom Seeds – MI
Plantation Seeds – MA
John Scheepers Kitchen Garden Seeds – CT